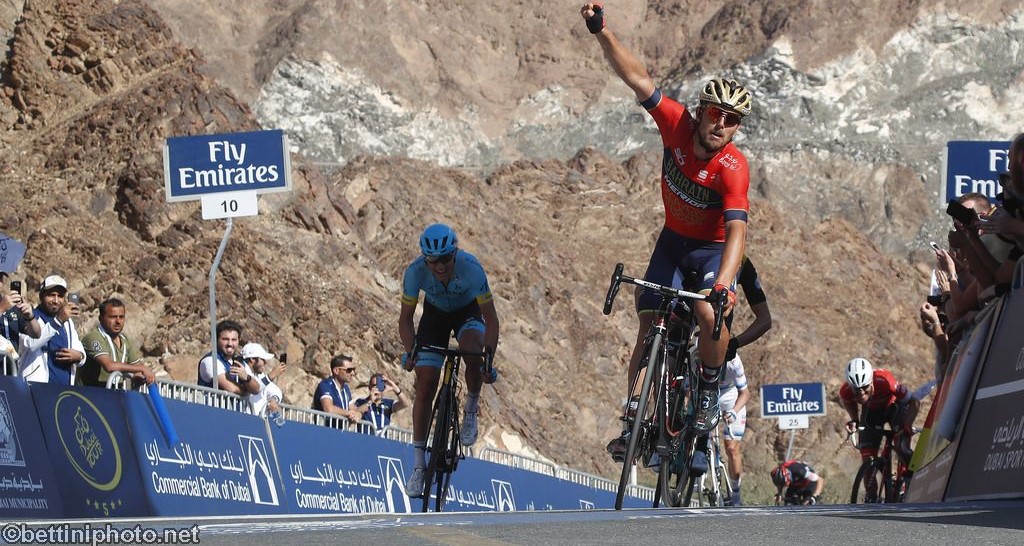 Hatta Dam, February 9th, 2018 – "It's a big win for me and the Team. We did a great job in the final part of the race. I have to thank my team for today's win." – Sonny Colbrelli was excited after the victory of the queen stage of the Dubai Tour. It was an exciting race, riders were peeling off during the stage specially when the climbs started. 4 riders were in the breakaway, but the two left had 2:25 minutes advantage only 15km before the finish line, but after a slight incline only Rally rider McNutty was left and he held off the peloton all the way to the Dam. When everyone thought he'll win the stage, the peloton pushed and 60 meters before the finish line, where the climb is at 15%, Sonny emerged and passed the American rider and without looking back, took the win.
"The final 2kms were really challenging. Vincenzo did really a great job with the team. I had a mechanical problem, but in the end I took the win. The breakaway rider was very strong. We caught up with him just 20/30meters to go. It went fine for me." – Sonny said in the midst of all the interviews.
Alberto Volpi was excited and short on words: "Fantastic job from the whole team during the race, especially the last 10km, and of course fantastic legs by Sonny".
With this win and the bonus seconds, Sonny Colbrelli climbed up to the overall 3rd position, just 4 seconds behind Elia Vivivani (Quick-Step Floors) before the tomorrow's last stage. Everything is still possible…